Design-A-Book Exposition Catalogue
As a medium, the Book touches on multiple areas, whether that be literature, philosophy, fine arts, design, bookbinding, or, of course, publishing. Land of infinite possibilities, the Book raises just as many questions as it does open more avenues of exploration, both in terms of its content as well as its materiality. When considering the domain of the Book as a creation in of itself, the rapport between the physical object and what it conveys, translates, hides, and reveals is continuously the object of subversion and experimentation, giving rise to some truly surprising pieces.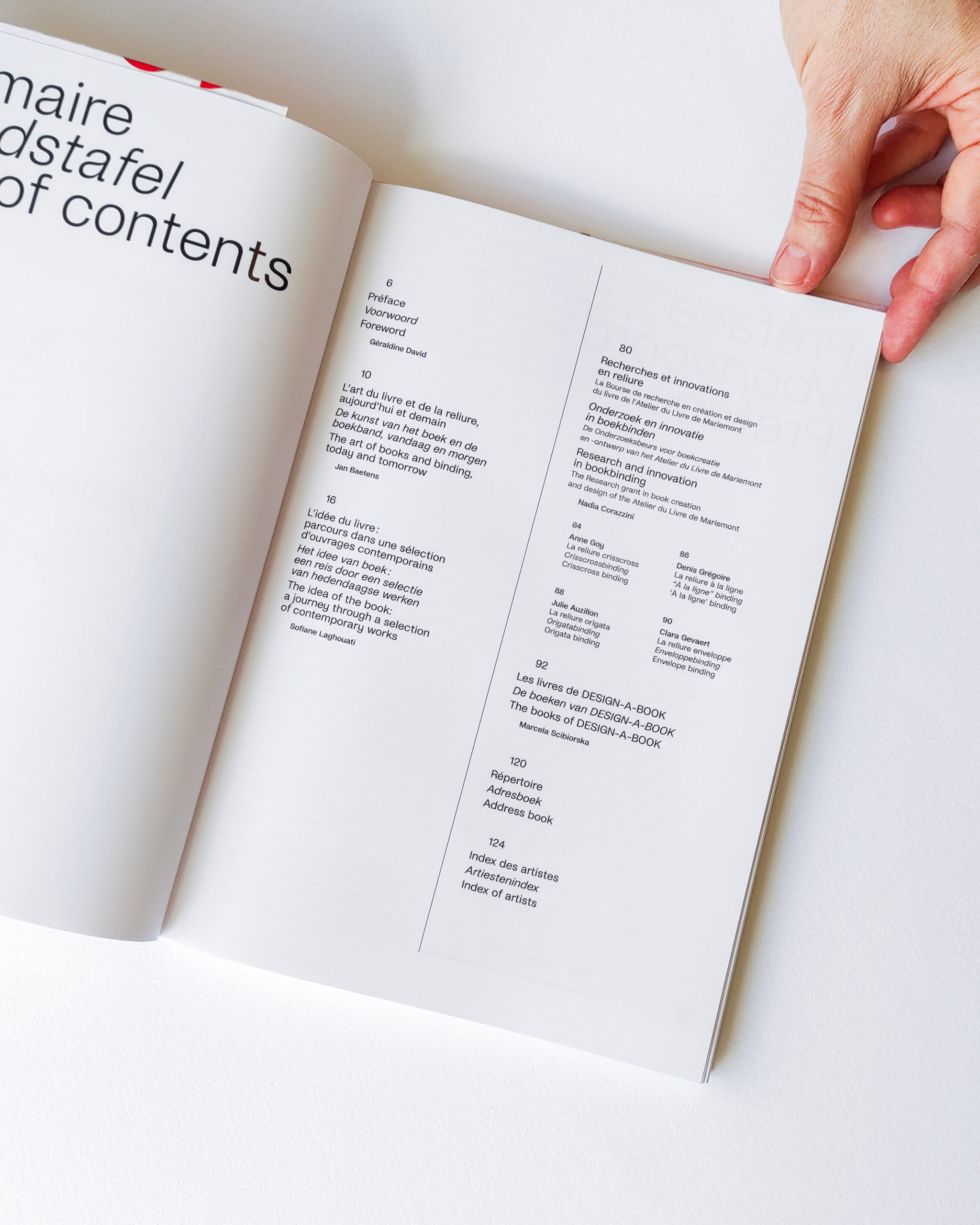 The catalogue Design-A-Book is a publication edited at the end of the eponymous exposition organized by the Wittockiana and the Atelier du Livre de Mariemont from February to April 2023. In addition to all of the exposition's plaques and photographs of each work, it includes additional texts that put into perspective, through the works available for view in the exposition rooms at the Wittockiana, the act of creation in the field of books. Géraldine David, Jan Baetens and Sofiane Laghouati propose thus a historical and theoretic regard on the trends and investigations that emerge from this event that has brought together different pieces from artists across the country, while Nadia Corazzini presents the prize winners of the Mariemont research grant for book fabrication and design.
Photographs of the exposition space allow for a trace of this event to be conserved, shining a light on the continuities and the dialogues that tie together the prolific universes of book design in Wallonia, Flanders, and Brussels. Lastly, the publication is made complete by an address book that provides an overview of the places of teaching, creation, study, and exposition dedicated to the art of the Book. Published in three languages (French, Dutch, and English), this catalogue acts as an extension of the reflections brought on by the Design-A-Book exposition, and it invites one to consider the Book as a workroom for contemporary practices.
Design-A-Book. Research and Creation in Belgium
Texts by Jan Baetens, Nadia Corazzini, Géraldine David, Sofiane Laghouati, Marcela Scibiorska,
Photos by Andy Simon,
Wittockiana/Atelier du Livre de Mariemont, 2023
126 p.
Retail Price: 32€
ISBN : 978-2-87305-014-6
To purchase the catalogue, visit us at the Wittockiana or contact us for other options. Coming soon to bookshops across the country.