L'Immortalité chimérique. Camille De Taeye in the books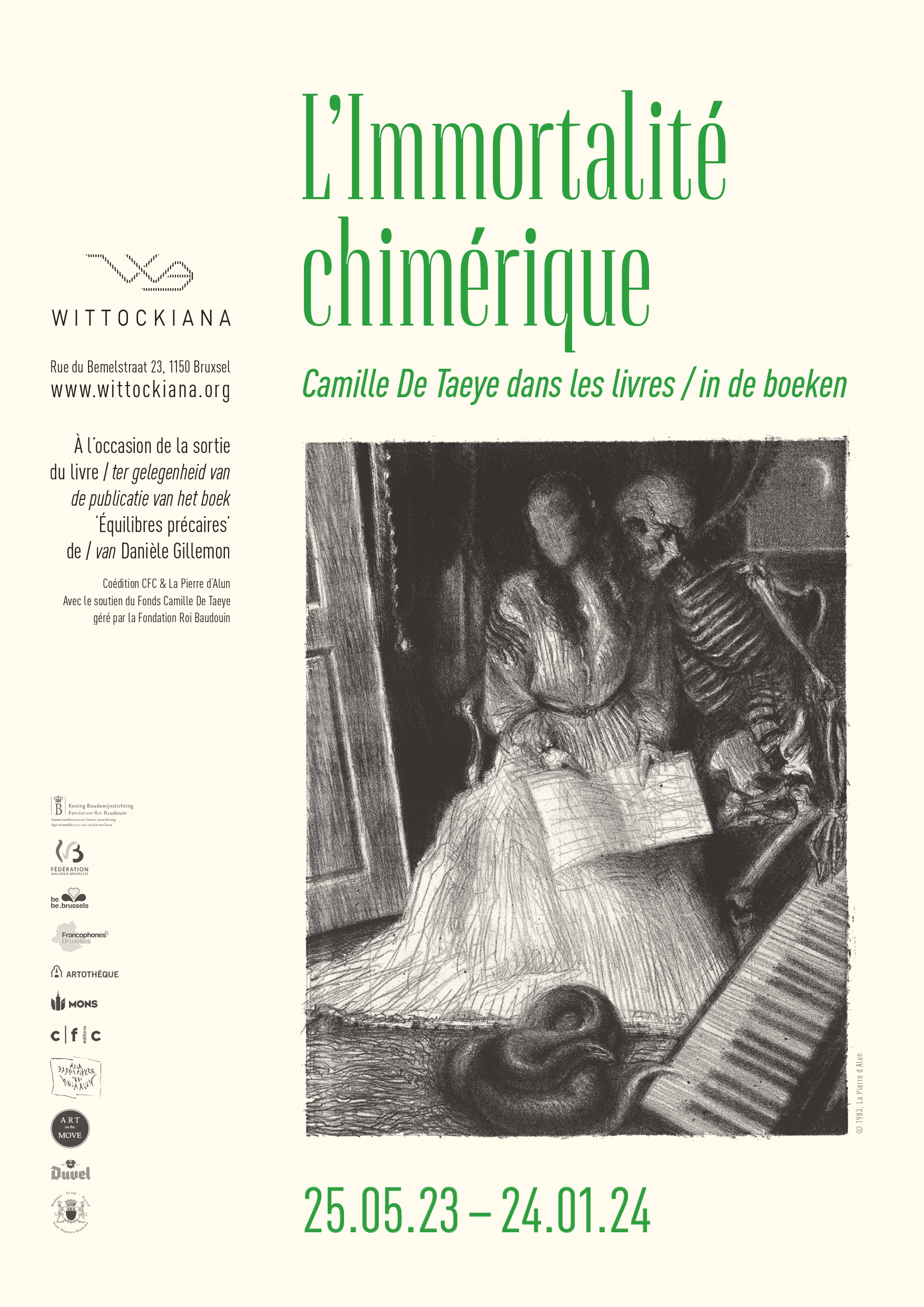 A bon vivant with a subversive sense of humour and a tragic life, Camille De Taeye (1938-2013) was a Brussels painter who evolved on the fringes of artistic trends and movements. His first wife Gerda Vancluysen, a writer and poet, introduced him to the world of publishing. Together they produced a series of books, developing their own pictorial and poetic universe. The artist has also designed books with several authors, which he accompanied with lithographs printed on his hand press. Each print is an echo of the texts but also of the multiple facets of the painter that are reflected in his paintings.
For Camille De Taeye, painting is a form of resilience. His work is marked by several transversal themes, embodied by recurring motifs that translate and divert the dramas of his existence through a unique imagery. This exhibition proposes to discover some crucial aspects of his creation: his syntax, his symbols, which are so many grammatical elements necessary to his relational art; the cohabitation of eros and thanatos; a form of Belgian identity and precarious equilibriums.
The opening of the exhibition is an opportunity to discover the book Équilibres précaires by Danièle Gillemon, published by CFC & La Pierre d'Alun on the tenth anniversary of Camille De Taeye's death.
« Saisissante, lumineuse, poétique, panique… sa peinture s'en prend à l'ordre des apparences […]. Déplacées, les choses proclament que les yeux ne sont pas en face des trous ni l'église au milieu du village. Le surréalisme ni aucune autre étiquette ne suffisent à expliquer ce chamboulement. […] Jamais gratuite, cette Chirurgie des apparences du nom de l'un de ses tableaux crée une fiction picturale toujours en équilibre précaire entre deux pôles, la vie et la mort, l'aberration du monde et sa munificence. »
Danièle Gillemon
With the support of the Fonds Camille De Taeye – Fondation Roi Baudouin