The Wittockiana with your class, to awaken the pleasure of reading and book arts!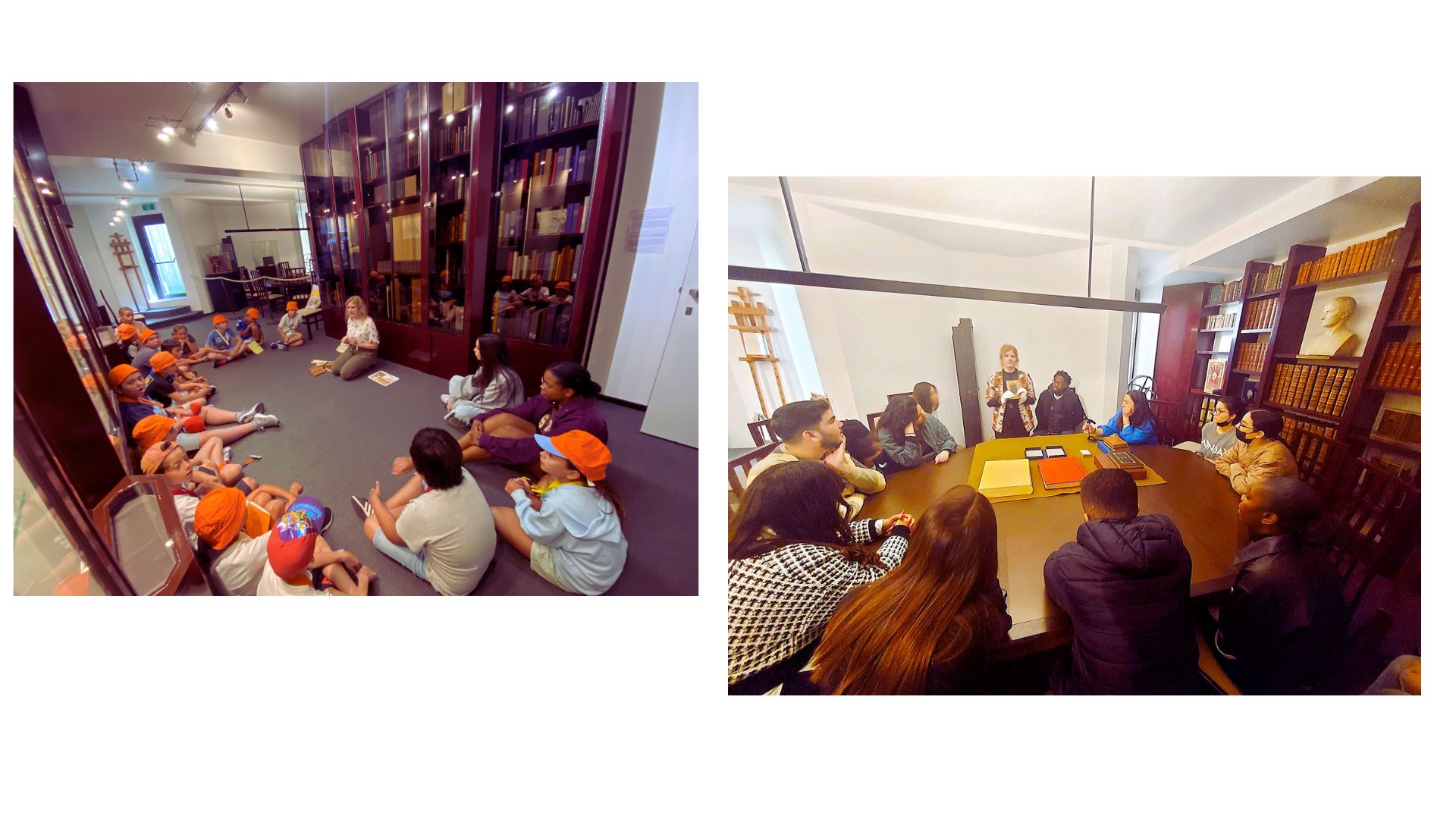 Guided tours around the permanent collections
(For primary and secondary schools – all years)
The guided tours for children and teenagers, which can be adapted to the desired duration and theme, take you through the collections of the Wittockiana on exciting journeys that plunge you into the world of books.
Each animation starts with an introduction to the special place that hosts you: The Wittockiana (Museum of Book Arts and Bookbinding). Then, explore various unusual books and their stunning bindings, the 18th century and its literary salons, the history of Diderot and d'Alembert's Encyclopaedia, or illustrated books through the ages!
The guided tour can be followed by a creative activity and/or a writing workshop.

Nomad museum
(6th year of primary school – 1st-2nd year of secondary school ; 2×50 min)
The museum in your class? It's possible!
The Wittockiana mediator comes to your school with a mobile device to present the world of museums and books and to explore the history of writing materials.
The activity continues with the creation of a simple bookbinding and a writing exercise.
Podcasting, producing artists' books, shooting films, …
In collaboration with artists, the classes set up projects with the Wittockiana by immersing themselves in a theme through books.
Videos produced by 3C (Collège Fra Angelico) with the artists Camille Van Hoof and Sami Cuzin as part of the project "Musées (em)portables" & "Le Son des Livres" with the support of "Un Futur pour la culture" – Fédération Wallonie-Bruxelles and the Jacques & Jeannine Versluys-Evrard and Peter & Margarethe Braune Funds – King Baudouin Foundation, in collaboration with the Wittockiana and the University of Artois (Arras, France)
Programme "La Rhétockiana" about the image in the book and the artist's book, produced by the 6th secondary class of the Lycée Émile Max in Schaerbeek, with the artist Zoé Suliko Tabourdiot.
Programme "Sex'O Femme" on the image of women in the media, produced by the 6th secondary vocational class (Administrative and reception assistant section) of the Collège Roi Baudouin in Schaerbeek, with the artist Zoé Suliko Tabourdiot. Project financed by the commune of Schaerbeek.
Information and reservations
Marcela Scibiorska, responsible for mediation and schools
mscibiorska@wittockiana.org
02/770.53.33