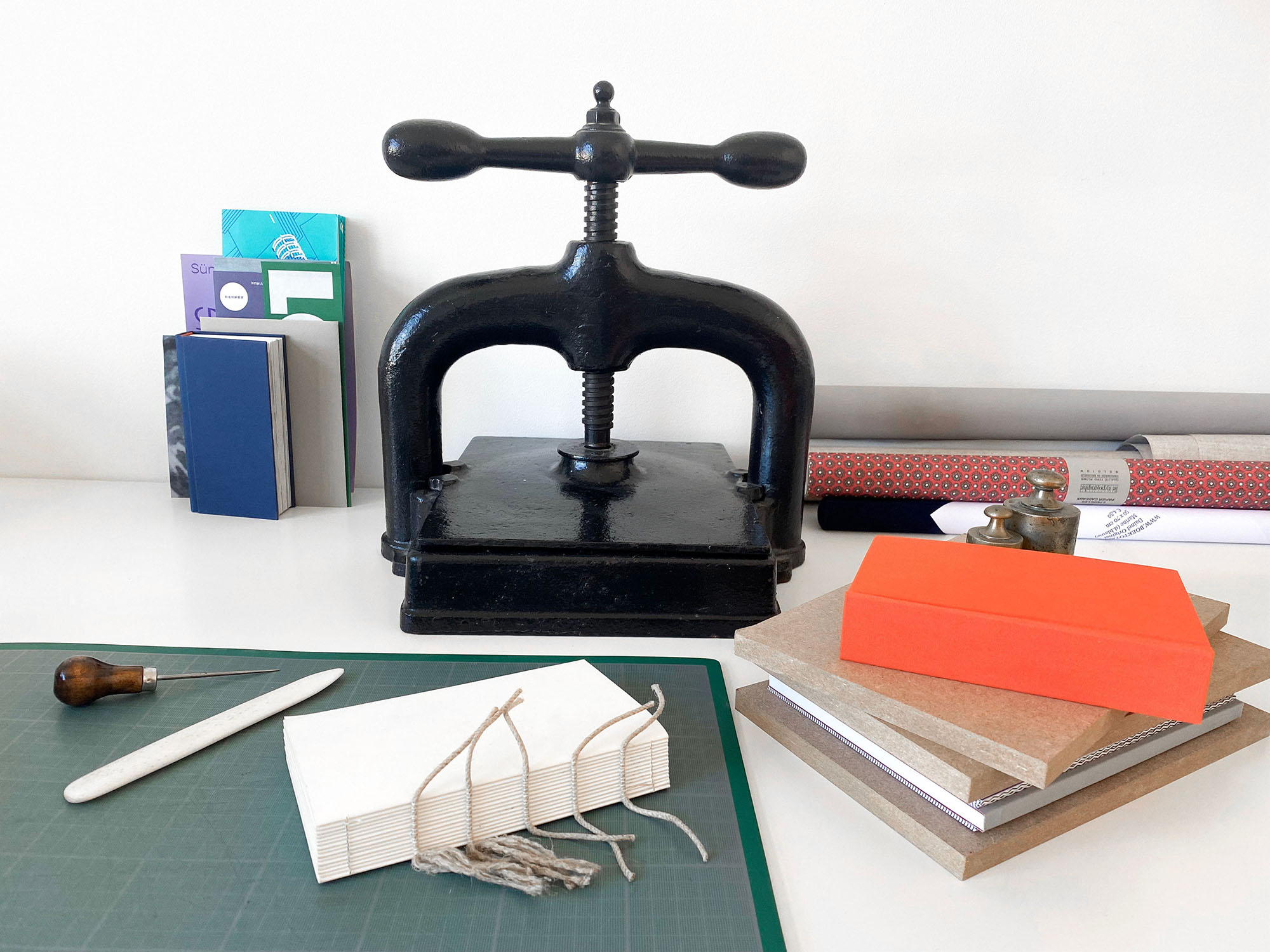 Created within the Wittockiana, the bookbinding workshop offers a complementary energy to the museum, each day giving new momentum to creative bookbinding.
The courses are given throughout the academic year by experienced bookbinding instructors and take the form of technical guidance adapted to the creative projects of each student. They are intended for beginners as well as for advanced students.
These workshops allow students to develop their own creative work while discovering or perfecting their technical skills in a collective workshop.
Practical informations
The flat rate is 30€ per course. There is also a small additional charge for materials.
For more details regarding registration and payment, the course schedule or any other additional information, please contact the trainers directly.
Elise De Maio (Substitue for Marie-Joëlle Villenfagne) - Tuesday from 9.30am to 12.30 pm
Elise De Maio (Substitute for Marie-Joëlle de Villenfagne)
Tuesday, 9.30am to 12.30pm
Elise De Maio began her career as an interior designer, before obtaining a Master's degree in book and paper design at ENSAV la Cambre.
Her work revolves around her fascination with architectural space and the physical potential of the book as a structure and a place for manipulation and wandering. She also works as a bookbinder/book designer in the collective 3 studio et laboratoire du livre.
The aim of this course is to teach you how to bind your own books and/or work around existing books, and also to explore the underlying issues of bookbinding in the contemporary sphere. The programme focuses on the acquisition of basic binding techniques (casing, broché-cartonnés, glued square backs, accordion books, bradels, etc.) as well as a few techniques working with cardboard (creation of boxes, cases, etc.). Students can choose from a range of techniques, depending on their level and interests. The idea is to adapt to the needs of each student.
This course is initially being offered by Marie-Joëlle de Villenfagne, who will be away on maternity leave until June 2024.
elise.demaio@protonmail.com
+32 468 53 97 02
Junko Hayashi - Wednesday from 2pm to 5pm and 5.30pm to 8.30pm
Junko Hayashi
Wednesday, 2-5pm and 5.30-8.30pm
After studying Japanese literature and working as a librarian in Japan, Junko Hayashi discovered bookbinding at Kumiko Tochiori's workshop in Tokyo, before continuing her apprenticeship at La Cambre's bookbinding workshop, from which she graduated in 2006. Her work covers all types of binding, as well as artists' books and book restoration. She has been an instructor at the Wittockiana since 2011.
The aim of the bookbinding course is to enable students to carry out their own projects, under the supervision of the teacher, and to learn the appropriate techniques, depending on the programmes on offer. The course is run with a small number of students (max. 7).
Beginners start with the basic techniques in modules of around 10 lessons. Programme: case binding (basic hardcover binding technique); accordion binding, seam binding, Japanese binding, book folding, boxes.
hajunko@gmail.com
+32(0)479 88 18 76
Song Yi Han - Thursday from 9.30am to 12.30pm
Song Yi Han
Thursday from 9:30pm to 12:30pm
It was through contact with paper that Song Yi Han discovered her interest in books. She discovered bookbinding at the Recto-Verso workshop in Seoul and continued her training at ENSAV La Cambre, where she graduated in 2017. She works for individuals, artists and micro-publishing, including publishing personal works.
The course is aimed initially at beginners. Using simple bookbinding techniques – assembly, folding, simple stitching, casing, etc. – the instructor invites students to understand the structure of a book. The progress will be at the participant's own pace, as they learn the appropriate techniques and come into contact with the materials they are working with.
songyi.sol.han@gmail.com
+32 (0)496 70 33 07
Juliette Amigues - Thursday from 2pm to 5pm and from 5.30pm to 8.30pm
Juliette Amigues
Thursday, 2pm to 5pm and 5.30pm to 8.30pm
Juliette Amigues trained in bookbinding at ENSAV La Cambre, graduating as a bookbinder and editorial designer in 2022. Her books range from creative bindings to the design of large-scale publishing projects, as well as prototyping of boxes and small-scale artist's books. Juliette has also been teaching bookbinding at La Cambre since September 2023.
The aim of the course is to equip and support students at all levels to carry out their personal projects, from the simplest to the most complex. Modules of research and experimentation around specific themes will be offered throughout the year: headbands, boxes and cases, juxtaposed canvases, mounting on tabs, etc. For beginners, a specific teaching programme will be devised in collaboration with the student, depending on their initial knowledge.
+33 (0) 627395755
Clara Gevaert - Friday from 9.15am to 12.15pm
Clara Gevaert
Friday, 9.15am to 12.15pm
A graduate of ENSAV La Cambre in 2005, Clara Gevaert works with bibliophiles and booksellers as well as with contemporary artists and publishers specialising in contemporary art. She also teaches bookbinding at La Cambre and at the Académie des Beaux-Arts in Marche-en-Famenne, as well as at the Atelier du Livre in Mariemont.
From the simplest sheet assembly to the most complex binding, the course is aimed at all levels of learners. The aim is to help each participant bring their projects to fruition. The programme is based on the gradual acquisition of basic techniques for beginners (simple stitching, casing, folding) and the mastery of more advanced binding techniques (bradel and passe-carton) for the more experienced. A great deal of attention will also be paid to boxes and other containers, whether they are designed to protect or to showcase a book or an object.
clara.gevaert@gmail.com
+32(0)497 37 77 17
Camille Stoffel - Friday from 2pm to 5pm
Camille Stoffel
Friday, 2pm to 5pm
A graduate of ENSAV La Cambre, Camille Stoffel is a bookbinder and graphic designer. Her interest in books is wide-ranging, from micro-publishing to bibliophile books. She examines the challenges of contemporary bookbinding and the current perception of the book as a medium in constant evolution.
While opening up a wide range of creative possibilities, the aim of this course is to provide tools that will be useful to everyone in creating their publishing projects. The book will be approached as a space for conceptual and technical reflection, through the discovery of different binding and cartonnage structures at all levels.
Individual support will be offered in a group workshop, with the aim of exploring new forms of publishing, opening up the field to artists' books, object books, etc.
camille.stoffel@gmail.com
www.camillestoffel.com
+32 (0) 474 11 90 20