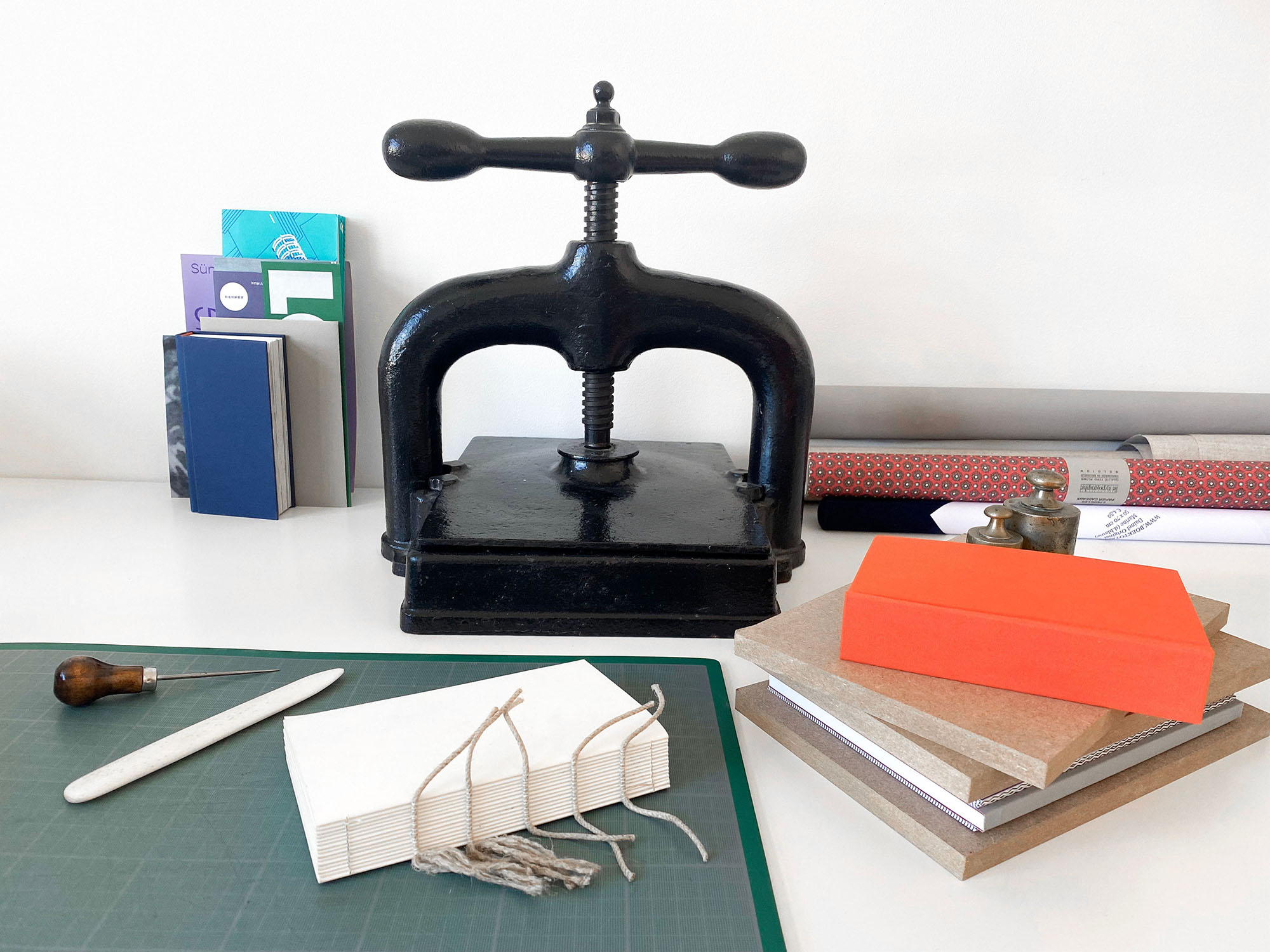 The bookbinding workshop created within the Wittockiana offers a complementary dynamic to the museum, giving new impetus to creative bookbinding every day.
The courses are given throughout the academic year by experienced bookbinding instructors and take the form of technical guidance adapted to the creative projects of each student. They are intended for beginners as well as for advanced students.
These workshops allow students to develop their own creative work while discovering or perfecting their technical skills in a collective workshop.
Practical information
The flat rate per course is 30€. There is also a small additional charge for materials.
For more details regarding registration and payment, the course schedule or any other additional information, please contact the trainers directly.
Marie-Joëlle de Villenfagne
Tuesday 9.30am to 12.30pm and 2pm to 5pm
Trained and graduated in 2010 in the bookbinding workshop of La Cambre,
Marie-Joëlle de Villenfagne thrives on creating and producing bibliophilic bindings for private collectors, most of which have already been exhibited. She also gives courses for all levels.
From the folded book to the case binding, the box and the case, through a variety of techniques, the student discovers and becomes familiar with the tools, materials and gestures of the trade. The creative aspect of the course is developed as the student's ideas and projects unfold.
The course is open to both beginners and experienced students.
mjdevillenfagne@gmail.com
+32(0)473 40 03 94
Junko Hayashi
Wednesday from 2pm to 5pm and from 5.30pm to 8.30pm
After studying Japanese literature and working as a librarian in Japan, Junko Hayashi discovered bookbinding at Kumiko Tochiori's workshop in Tokyo, and then continued her apprenticeship at La Cambre's bookbinding workshop, from which she graduated in 2006.
Her work covers all types of bindings as well as artists' books and book restoration.
She has been a trainer at the Wittockiana since 2011.
The bookbinding course aims at the realization of one's own project, under the supervision of the trainer, or also at learning the appropriate techniques, depending on the programs offered. This course is given with a small number of students (max. 7 people).
Beginners start with the basic techniques in modules of about 10 lessons.
hajunko@gmail.com
+32(0)479 88 18 76
Yasmina Aboudarr
Thursday from 5pm to 8pm
Trained in the bookbinding workshop at La Cambre.
The Thursday workshops are intended to be a place for questioning the book, its space, its form, its usefulness, its reading and rereading, but also, of course, its binding… Based on a given theme and an imposed technique, the student is led to question the binding. Folds, sewing, cases, boxes and casings will be the different techniques tackled and revisited during the course.
THIS COURSE WILL ALSO BE HELD ONE SATURDAY PER MONTH FROM 10AM TO 5PM. THE EXACT SCHEDULE IS AVAILABLE FROM THE INSTRUCTOR.
minareliure@yahoo.fr
+32(0)477 30 56 39
Clara Gevaert
Friday from 9.15am to 12.15am
Clara Gevaert graduated from La Cambre in 2005 and works for bibliophiles and booksellers as well as with contemporary artists and publishers specialising in contemporary art. She also teaches bookbinding at La Cambre and at the Académie des Beaux-Arts in Marche-en-Famenne as well as at the Atelier du Livre in Mariemont.
From the simplest leaf assembly to the most complex binding, the course is aimed at all levels of learning. The aim is to help each participant to realise their projects.
The programme is based on the progressive acquisition of basic techniques for beginners (simple seams, casing, folding) and the mastery of more advanced binding techniques (bradel and passe-carton) for the more experienced. A great deal of attention will also be paid to boxes and other containers, whether they are designed to protect or to showcase a book or an object.
clara.gevaert@gmail.com
+32(0)497 37 77 17
Camille Stoffel
Friday from 2pm to 5pm
A graduate of La Cambre, Camille Stoffel is a bookbinder and graphic designer. Her interest in books is manifold and extends from the field of micro-publishing to bibliophile books. She questions the challenges of contemporary bookbinding and the current perception of the book, a medium in constant evolution.
While allowing for numerous creative possibilities, this course aims to provide useful tools for everyone in the realization of their publishing projects. The book will be approached as a space for conceptual and technical reflection through the discovery of different binding structures as well as all the stages necessary for its realization. Individual support will be offered
within a collective workshop with the aim of exploring new forms of publishing, thus opening up the field of possibilities to artists' books, object books, fanzines, typographic specimens, etc.
camille.stoffel@gmail.com
www.camillestoffel.com
+32 (0) 474 11 90 20